Introducing the 5535CF
For Commercial Fire Applications
Dual Embedded SIM (ATT/Verizon)
Increase Monthly Recurring Revenue
Future Proofed LTE Technology
Introducing Uplink 5535CF
Looking to expand your capabilities into commercial fire? The 5535CF is the perfect compliment to any alarm dealer wanting to increase the monthly recurring revenue and add to their product offering.
With the new 5535CF you get these compelling features:
Multi-band CAT M1 LTE 700/850/1700/1900/2100 MHz cellular communicator for AT&T and Verizon LTE-M networks

Dual-SIM for AT&T/Verizon

Dual Tip & Ring 

Dial Capture interface supporting ContactID, SIA and Pulse 4+2

4 digital inputs, 2 digital outputs (programmable)

Dual-path: LAN and cellular channels 

Supply voltage: +12 to +30 VDC 

Power Consumption: Nominal 50mA, Peak 200 mA

Compact Dimensions: 2.48″ x 3.54″ x 1.26″

Weight: 2.65 oz (75 g) without antenna
Conforms to UL Standards:
UL 864 – for Control Units and Accessories for Fire Alarm Systems, listed as a sole path cellular

UL 1610 – for Central-Station Burglar-Alarm Units
5535CF Value Added Benefits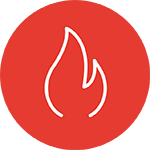 QUICK & EASY INSTALLATION
The 5535CF comes with pre-activated Uplink cellular connectivity service and is pre-programmed according to the dealer's needs, eliminating the typical installation hassles, saving your precious time.  For most installations, the 5535CF is simply Plug'n'Play.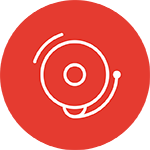 WORKS WITH ANY ALARM PANEL
The 5535CF supports virtually any fire alarm system – through digital outputs (PGMs) or a dial capture interface. The most universal form of connectivity is the Dial Capture interface – simply connect the Tip and Ring, configure the panel and you are good to go!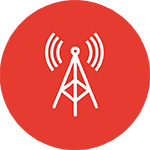 In addition, you also get world-class service and support from Uplink, as well as flexible installation options and robust technology add-ons. Uplink solutions are powered by Sierra Wireless, providing packaged solutions to alarm partners as a fast, easy and highly profitable solution to meet their customer's security, fire and GPS tracking needs.