GPS Fleet & Asset Tracking
Get Fast LTE Connectivity, Improve ROI,
and Increase Visibility
Easily Track and Monitor Things of Value – Vehicles, Machinery, Equipment – Virtually Any High Value Asset

Add New Revenue Streams and Additional Product Offerings
Uplink GPS offers turn-key vehicle and asset tracking solutions for resell to commercial and residential customers. Our solution provides you with an opportunity to extend your relationship beyond the boundaries of traditional security solutions by adding asset tracking for your customers as an additional recurring revenue source. Security dealers may also benefit from GPS solutions by tracking and monitoring their own fleets as they service their alarm customers in the field.
Featuring several device tracking options along with a cloud based asset tracking software application, Uplink GPS uses an interactive mapping feature that can be viewed on any desktop, smartphone or tablet device.
Manage your new GPS asset tracking business directly from our reseller website, and activate tracking devices and service for your customers anytime, anywhere. Uplink GPS tracking devices are available through any certified Uplink alarm product distributor. You set the sales price and monthly rate for your customers, and you provide the billing and customer support. Uplink does the rest!
Customers using the cloud-based software application to manage their assets will see your logo branded on their desktop, smartphone or tablet device. Our easy-to-use solution helps you effectively manage your assets with options such as:
View all vehicle and asset locations
Click-to-locate
Email notifications for unauthorized usage
Speeding violation notifications
Setup notifications for zone violations, ignition events, speed alerts, setup user logins, and more
Notifications for ignition events during designated time periods
Select from one of these devices based on your needs:
For Vehicle/Fleet Tracking: GPS LTE Device
For High Value Asset Tracking: Uplink GPS AT
All 3 work with our mobile app, Uplink GPS.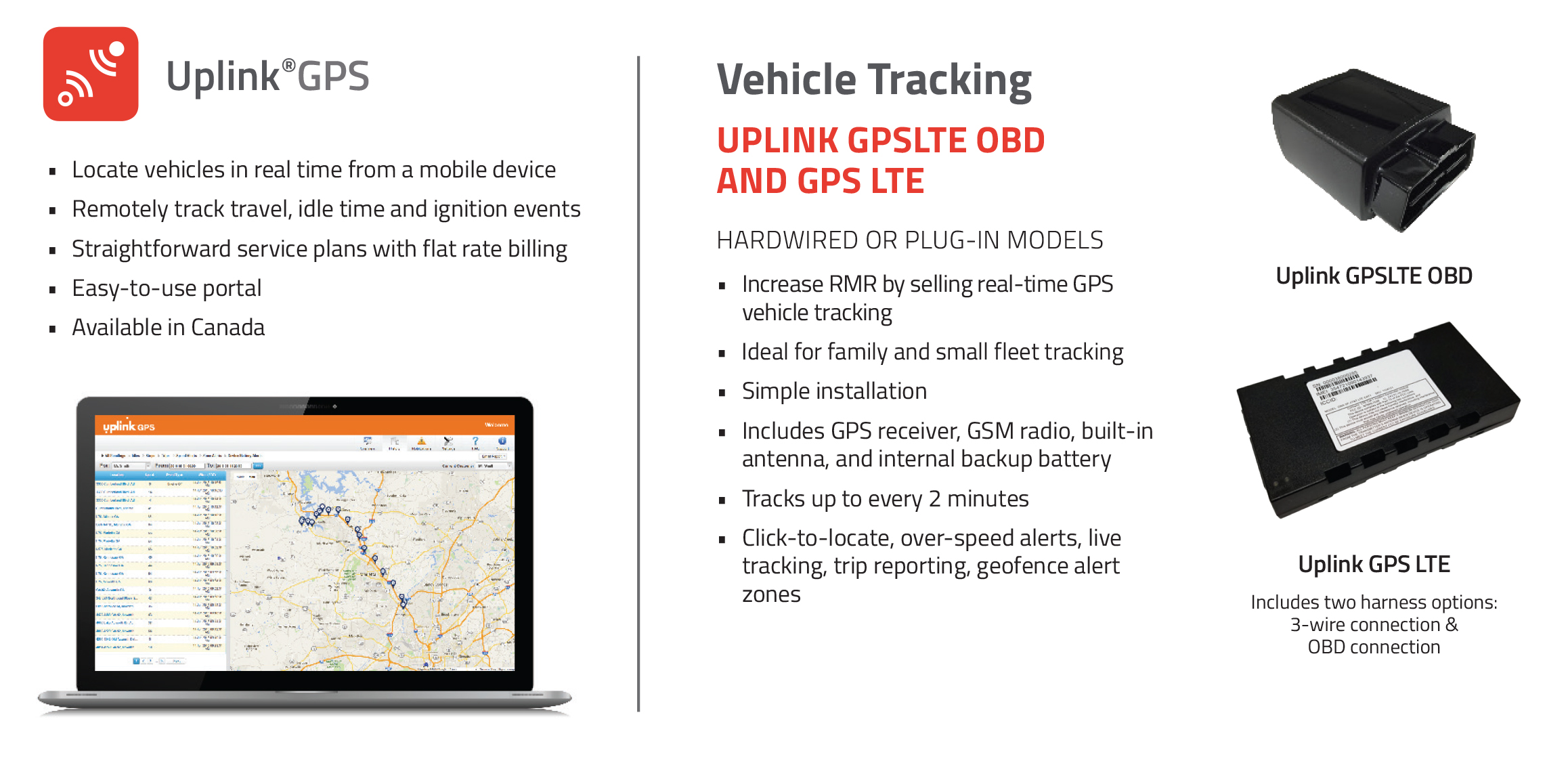 Expand your service offering. Get Uplink GPS products at any certified Uplink distributor. Set up your dealer account on our secure online dealer portal today to begin enjoying these benefits:
Activate new tracking units online from a computer or smartphone – Uplink will bill you monthly for service

You set the monthly rates, you bill your customers – just like monthly alarm monitoring service

Your customer will login to uplinkgps.com, or you can create a branded login form on a page on your website

Customers will be presented with easy-to-use mapping software featuring your company name, logo, and contact information

Setup notifications for zone violations, ignition events, speed alerts, setup additional user logins, and more

Track at-risk drivers, teens, vehicle fleets, containers or any other valuable asset
New GPS users. Create an Account.