Products
4500EZ
4G Universal GSM Alarm Communicator for Primary or Redundant Signaling
The Uplink 4500EZ includes the latest 4G technology for the best performance and longevity. Compatible with 2G, 3G and 4G cellular networks, the 4500EZ also operates on networks of multiple carriers for maximum geographic coverage and signaling reliability.
The 4500EZ is our most economical 4G communicator. Simply connect the compact 4500EZ to the siren output and up to three other outputs for universal compatibility with virtually any alarm system.
The 4500EZ offers all the features of its 2G counterpart – the Model 2500EZ. Installation is remarkably easy with the use of a secure website and unit switch settings. Activation is instant and is available using the dealer website or by a live operator.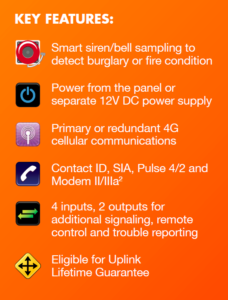 Device Features:
Primary or redundant alarm communications for residential or commercial security
"Out-of-the-box" operation – no additional central station equipment or programmer is required
Supports virtually all security systems and multiple formats
Programmable monthly, weekly, or daily status and signal tests
Live technical and activation support 8:00 a.m. to 8:00 p.m. EST, Monday through Friday
Power from the panel or separate 12V DC power supply (not included)
Programmable output for easy power reset
Login @ uplinkremote.com for remote control
Compatible with 2G, 3G and 4G networks
Perfect for Residential and Commercial Alarm Systems
Central station communication by Contact ID, SIA, Pulse 4/2 and Modem II/IIIa2
Supports Uplink Remote. No adapter board required.